Expanded Metal (Standard)
We produce expanded metal with mesh sizes ranging from 3 to 100mm, which we deliver in formats, sheets, or rolls with a maximum width of 1250mm. The length is practically unlimited and can reach up to 2,000m in the case of rolls. The Ledóchowski Mesh (commonly sought as Leduchowski mesh) can utilize materials such as steel, electrolytically or hot-dip galvanized steel, stainless steel 1.4301 (AISI 304) or 1.4404 (AISI 316L), aluminum, copper, brass, titanium-zinc, and synthetic materials in the form of tapes or sheets with a thickness ranging from 0.3mm to 3.0mm.
The diagram shown next illustrates the method of labeling expanded metal.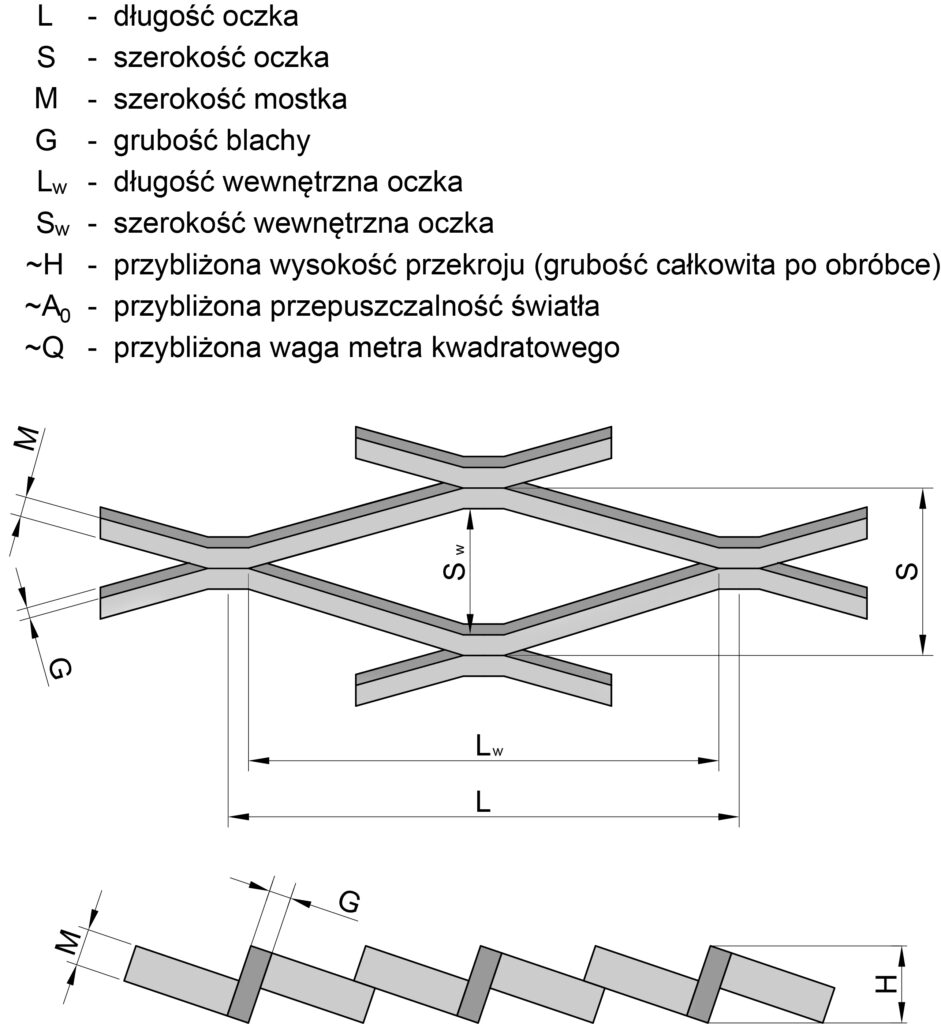 The tables below include our standard products divided by material.
Expanded Metal with Perfectly Matched Parameters:
High-quality expanded metal offers a wide range of possibilities for interior design and the production of various elements in the construction, industrial, filtration, and POS industries. We will help you achieve your desired goals by matching the appropriate material, form, and color. Whether the Ledóchowski mesh is intended to achieve a desired visual effect or its character is primarily practical, it can be adapted to a wide range of purposes, and our experience in working with representatives from various industries allows us to deliver ideal solutions.
With a modern, well-equipped machinery park as our trademark, we can assure that the expanded metal we supply meets fully satisfying performance parameters. We successfully carry out individual customer orders, giving shape to expanded metal according to the expectations
As a well-established producer of expanded metal meshes in the market, we provide elements that guarantee:
High durability

Desired aesthetic effect

Defined dimensional parameters
Choose proven materials with Ledóchowski mesh
We are capable of producing expanded metal meshes from a wide range of materials. Among the most popular ones, it is worth mentioning aluminum sheet, galvanized steel sheet, cold-rolled steel sheet, and stainless steel/acid-resistant sheet.
In the inquiries addressed to us, we kindly ask for specification of:
Mesh size, preferably in the form of DIN L x S x M x G (e.g., 6 x 3 x 0.6 x 0.5)

Material type (e.g., cold-rolled steel DC01)

Sheet or roll dimensions (e.g., 1000 x 500mm or 1000 x 20m)

Quantity (e.g., 100 pcs or 200m²)
If you have not found the desired parameters in the provided selection, please proceed to the Expanded Metal Mesh (custom production) section.